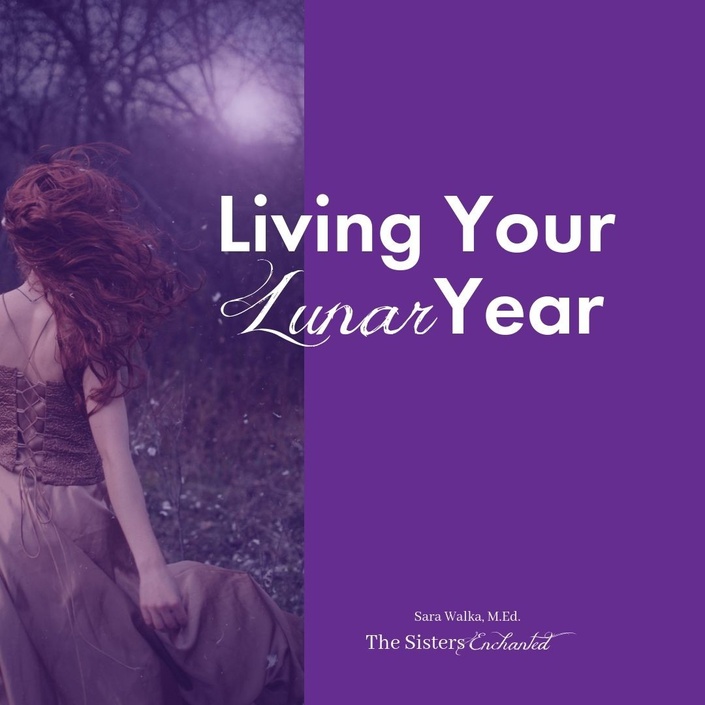 Living Your Lunar Year 2020
A spacious Lunar tracker to help you manifest, align your energies, and dance with the Moon.
I cordially invite you to a year of lunar living, energetic exploration, and magical moments.
When you register for Living Your Lunar year you will receive:

A printable workbook with over 100 pages for you to track an entire year's worth of Lunar cycles, set solar intentions, and more
Pages to create a Phenology Wheel, track your Daily Energy Cycles, and a prompt to dive into your own Seasons
A recorded video workshop where I will walk you through the workbook and discuss all things cycles, seasons, and documenting the year with you
Notes on the different Moon phases, Moon types, all of the remaining 2019 and all 2020 New Moon, First Quarter Moon, Full Moon, and Third Quarter Moon dates and signs!
And, when you register today you will also receive these bonuses:
An EIGHT part meditation series: One meditation for each moon phase to get you manifesting and syncing with the phases of the moon
TWO more meditations: Cord cutting and New Moon Intention Setting
TWO extra worksheet packs: Manifesting With The Moon and Solar Goal Setting to make sure that you have all the tools you need to make this next turn of the wheel, and beyond, amazing
Let's explore some FAQ's and get you registered!
Q: I don't know anything about moon phases or lunar tracking, is this going to teach me? A: The workshop replay will definitely help you to better understand phases and cyclical tracking. There are also pages in the tracker to give you a quick run down of the different lunar phases.
Q: I don't have a printer. Can I still use this? A: Yes! You can use it as a guide to simply record in a blank notebook or have it printed at your local office supply store. We also include a ready to use link that will allow you to get it printed and shipped right to your house. I tested it with shipping to my home in Connecticut and it was around $11.
Q: What if I don't like it/use it/forget about it? A: Do to the nature of digital products we don't offer refunds but know that you will be able to pick this up and use it at anytime.
Now is the time to begin aligning your energy to the future you that is waiting just around the corner. Enjoy Living Your Lunar Year!
*Plus, join today and receive two weeks FREE in our Enchanted Journey membership! Enjoy unlimited access for TWO whole weeks!*