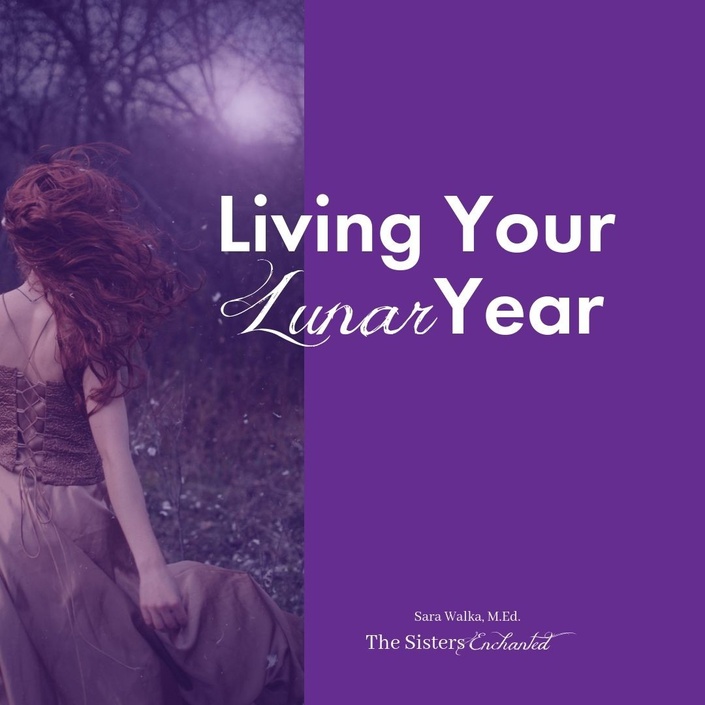 Living Your Lunar Year 2020
A spacious Lunar tracking to help you manifest, align your energies, and dance with the Moon.
Watch Promo
I cordially invite you to a year of lunar living, energetic exploration, and magical moments.
Did you know that the New Moon in Scorpio was considered the "New Year" by some Ancient Celts? This gateway to the Dark half of the year is nearing and presents us with the perfect opportunity to begin lunar tracking.
When you register for Living Your Lunar year you will receive:
A printable workbook with over 100 pages for you to track an entire year's worth of Lunar cycles, set solar intentions, and more
Pages to create a Phenology Wheel, track your Daily Energy Cycles, and a prompt to dive into your own Seasons
An invitation to a LIVE workshop on October 25 where I will walk you through the workbook and discuss all things cycles, seasons, and documenting the year with you
Notes on the different Moon phases, Moon types, all of the remaining 2019 and all 2020 New Moon, First Quarter Moon, Full Moon, and Third Quarter Moon dates and signs!
And, when you register before the end of October 19 you will also receive these bonuses:
Complimentary access to our Enchanted Journey membership program and community for the rest of October! Gain unlimited access to our digital vault of magical goodness as soon as you claim your Living Your Lunar Year registration
TWO meditations: Cord Cutting and Setting New Moon Intentions
TWO extra worksheet packs: Manifesting With The Moon and Solar Goal Setting to make sure that you have all the tools you need to make this next turn of the wheel, and beyond, amazing
Let's explore some FAQ's and get you registered!
Q: What if I want to wait to start my lunar tracking until January 1? A: That's totally cool! Celtic tradition begins the New Year at the Scorpio New Moon, Norse tradition at Yule, and our modern calendar on January 1. You do you and start tracking when you're ready.
Q: What if I can't make the live workshop? A: No problem! I will upload the replay to the class site shortly after the completion of the live event.
Q: I don't have a printer. Can I still use this? A: Yes! You can use it as a guide to simply record in a blank notebook or have it printed at your local office supply store. We also include a ready to use link that will allow you to get it printed and shipped right to your house. I tested it with shipping to my home in Connecticut and it was around $11.
Q: What if I don't like it/use it/forget about it? A: Do to the nature of digital products we don't offer refunds but know that you will be able to pick this up and use it at anytime.
Now is the time to begin aligning your energy to the future you that is waiting just around the corner. Enjoy Living Your Lunar Year!